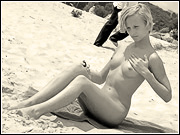 X-Nudism is the biggest Web portal containing materials intended for the surfers keen on nudist photos & nudist videos niche. X-Nudism project was started in 2001 and turned into one of most frequently visited resources dedicated to nude beach lifestyle almost at once. We've united many enthusiasts keen on shooting nudist pics and just having fun at nude beaches all over the world.


12.05.2009


Pur next shooting session at the nude beach. The girl who conceded to pose nude at the beach is Monica. The girl came to our office after she had seen the information about the shooting at our web portal – X-Nudism.com. The chance of participating in a shooting session at a nude beach where all the stares of completely unfamiliar men would be fixed upon her naked body interested the girl very much. Long before the shooting the girl confessed that the idea of completely undressing in public gets her off hugely. And we must admit that Monica did not let us down. She must have been one of the most audacious models ever to participate in our shooting for our web portal X-Nudism.com. the girl dropped every bit of her clothes momentarily and started posing for our photographer, monica, who was not in the least put off by her nudity, would come up to passers-by, finding topics for discussion, asking for a cigarette or else to rub some suntan lotion on her. Bravo! A perfect model for our website and an explicit set for the members of X-Nudism.com web portal.



The two girls who agreed to star in our project are called Olga and Sarah. They are bosom friends, so it's no wonder why they share even the most secret things with each other. Olga told us that her friend had already been to a nudist beach – it was her ex-boyfriend who had invited her to try it. Since that time Olga had also been dreaming to visit a beach where she would be able to get absolutely naked and feel the touch of sun on the most secret corners of her body. The girls had no trouble getting rid of their clothes at the beach. Sarah told us that getting naked in front of each other was no sweat for them since they share one room in the dorm and are not ashamed of seeing each other's bare booties.